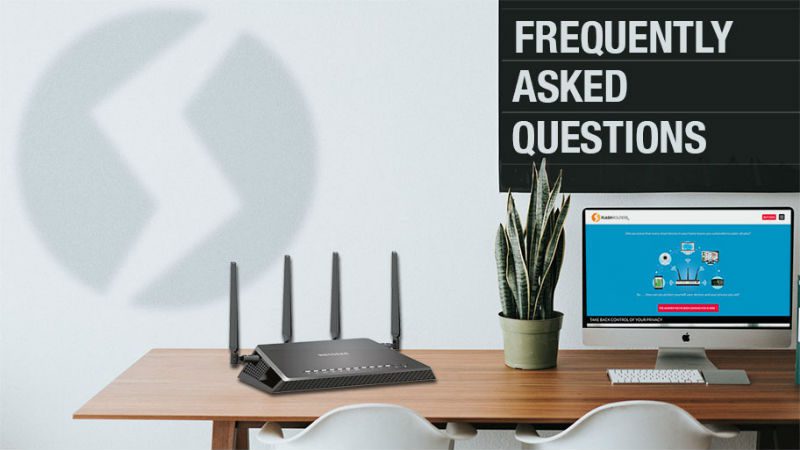 If you're a devoted VPN user, you know that Virtual Private Networks serve the important function of securing your online data and allowing you to location-hop on the Internet. But they're actually more versatile than you may have realized.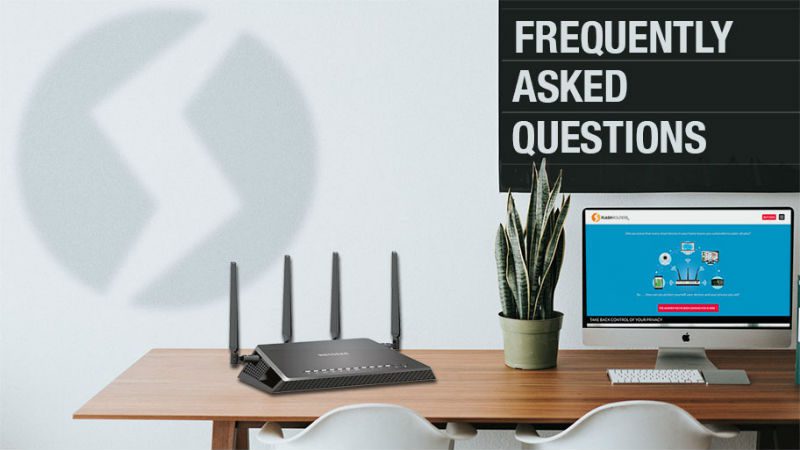 In fact, FlashRouters constantly receives questions regarding the functionality of VPN router setups. Today we're going to answer one of the most common questions: can you use a VPN for specific websites but not for others through an entire wired or wireless network?
Select Which Websites Go Through VPN
Chris in VA asks:
I am in need of help to set up my VPN with IPVanish and creating the proper rules for some websites not to use the VPN. I have the VPN set up on the router but some websites do not function properly when using a VPN (bankofamerica.com). So I am hoping you can help me identify the proper configuration / rules that I can use whereby all traffic goes through the VPN except sites that I can list on an as needed basis to use the ISP's IP address.
Basically, Chris wants to know – can I pick and choose or select which websites go through a VPN service on a router level?
Seems simple enough, right? You have your VPN service and you want to use it regularly, but you'd like to use a VPN for certain websites and not for others. Maybe VPN causes issues for certain sites or you want to appear in different locations for different websites. Either way Chris, we've got you covered…
Router Setups to Use VPN For Specific Websites
You're going to want to familiarize yourself with a few of our VPN Setup Options, as there are a few that will be able to help you use a VPN on specific sites.
Dual Gateway Setup Options
Using Dual Gateway Router Setup allows for multiple options on how to solve this question of selecting which websites go through a VPN on a router.
Routing Policy By Website
For some open-source router users, the option of routing policy or selecting which domain uses VPN is built right into the OpenVPN client setup. This is the optimal solution that the FlashRouters Networking Experts recommend for Chris if his lone goal is to pick and choose which sites use VPN.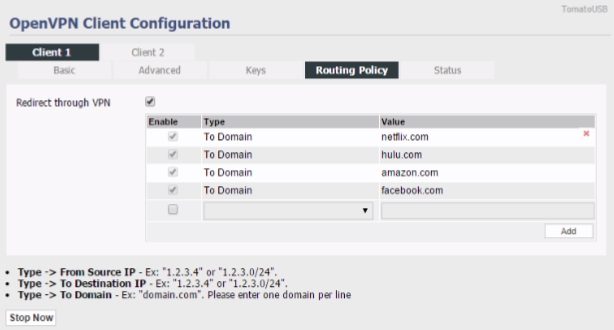 Device Whitelist VPN Solution
Want to split Internet traffic between your VPN and your local ISP by device assignment within the router? That means you want a VPN for certain devices. Then the VPN Whitelist Dual Gateway Setup is the way to go.
In the Dual Gateway Setup option, create a whitelist of specific network devices (iPhone, Roku, PS4, Xbox) to connect through a VPN. Any device not on the whitelist will then run through a VPN.
Popular Policy-Based Routers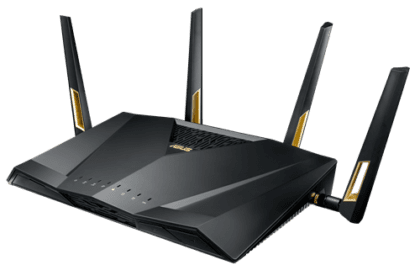 Asus RT-AX88U Merlin FlashRouter – Perfect for Max Wi-Fi Coverage / Recommended for 15+ Devices / Blazing-fast Wi-Fi 6 (Wireless-AX) Speeds / Enhanced with Merlin Upgraded Firmware SALE PRICE: $459.99 $599.99 | BUY NOW
Dual Router Setup
For the Dual Router Setup, you will need your current/old router when you got your new FlashRouter because you will need two routers for this to work (as the name implies). If it sounds intimidating, don't worry. The Dual Router Setup is our specialty at FlashRouters!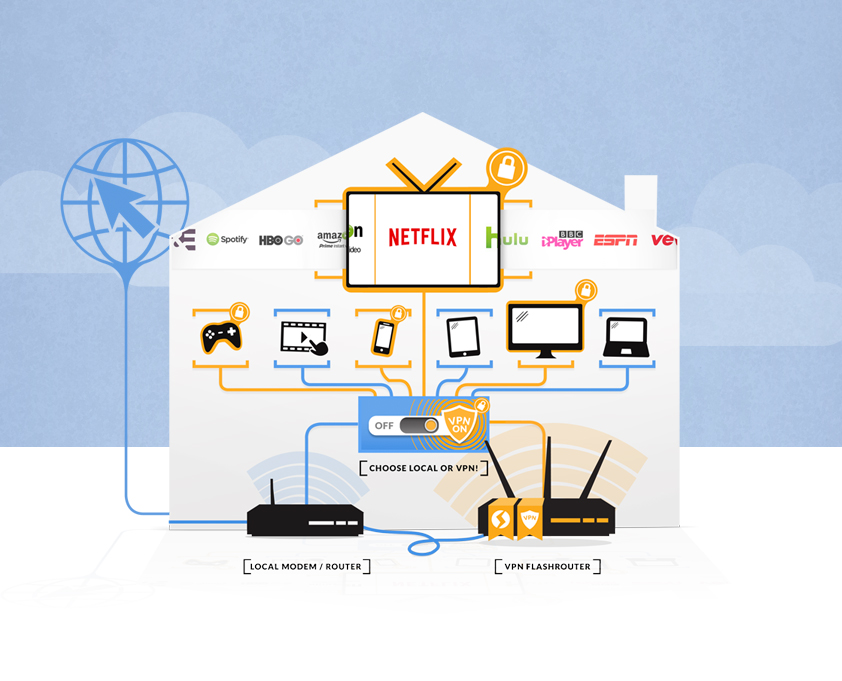 All the "dual router setup" means is having a two-segmented network. One router for your local network (we recommend using the older, less powerful one). Then hook up your new, powerful FlashRouter, which is used as a dedicated VPN router.
This means you can switch back and forth between your local network and VPN. Have trouble using the Bank of America site on your VPN? Use your local router's network. Want that VPN protection again? Switch back to your FlashRouter. It's that simple.
Popular Dual Router Setup Routers Options
ExpressVPN Aircove Wi-Fi 6 Router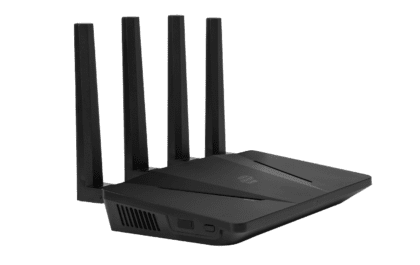 BUY NOW
Built-in Wi-Fi 6
Supports ExpressVPN Lightway Protocol by Default
Asus RT-AXE7800 Wi-Fi 6 FlashRouter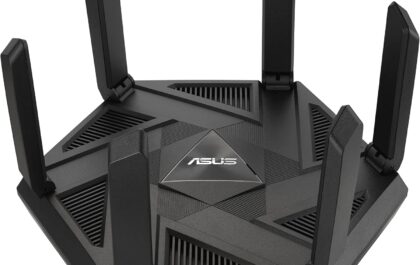 BUY NOW
Easy Router Setup via Asus App
Blazing-fast Wi-Fi 6 (Wireless-AXE) Speeds
NordLynx WiFi 6 Router – Privacy Hero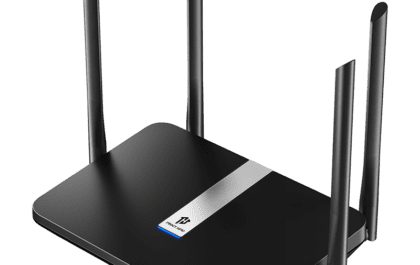 BUY NOW
Perfect for Medium Homes
Perfect for 20-30 Devices
Optimize Streaming with the FR Privacy App
In addition to VPN configuration and enhanced features, all of our DD-WRT FlashRouters come with the FlashRouters Privacy App! The FR Privacy App is an easy, free, and user-friendly way to access and configure your wireless network. Our app runs directly from any Internet browser on desktop or mobile devices. And, the FlashRouters Privacy App will help you control which devices go through the VPN.
The app allows for easy tweaking and VPN configuration, including but not limited to:
Easy device management.
Seamless VPN server switching.
Optimized UI on any browser or mobile phone.
Kill switch and VPN bypass by device.
Want better support for your entire network? The FlashRouters Privacy App is here to help.
Have More Networking, VPN or WiFi Router Questions?
We've got you covered! Contact our helpful networking team to help find the right router and networking solution recommendations for your unique purpose. Your question could make our next FAQ!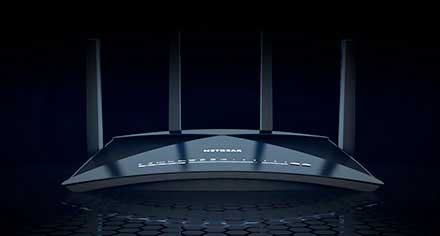 Looking for the most secure router for VPN service options? Look no further.