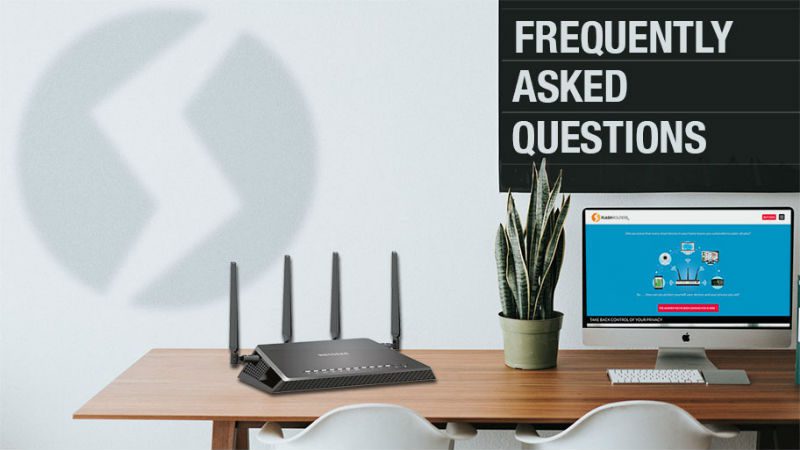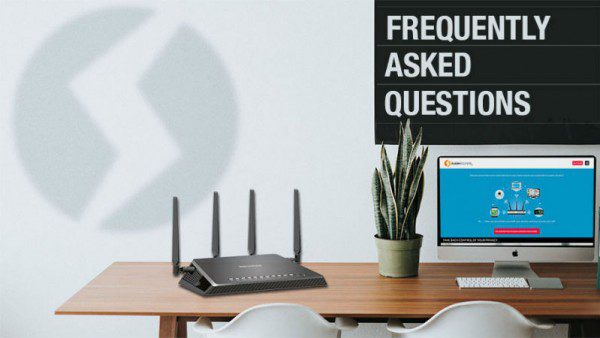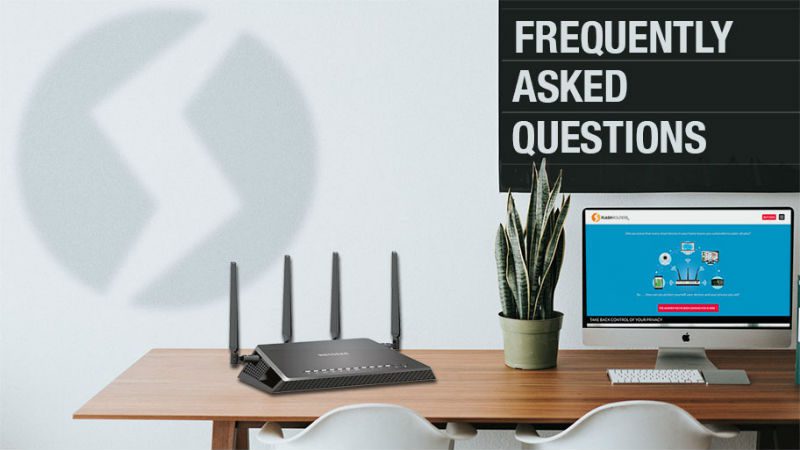 Is your Internet slow? Do you always have wireless connectivity issues? Your Wi-Fi network could be congested! Remedy it by adding a tri-band or dual-band router now! These are the best: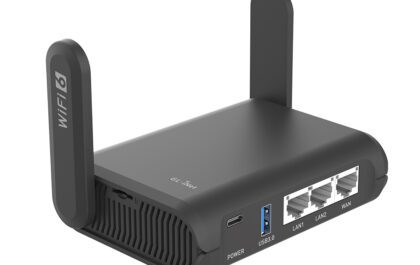 What Is A Wireless Band?
A wireless band, or frequency band, is how your wireless data is transmitted. These are radio waves that carry your data from one device to another. Currently, there are two frequency bands in use: the 2.4 GHz band and the 5 GHz band. However, Wi-Fi 6E is coming soon, expanding coverage to the 6 GHz band!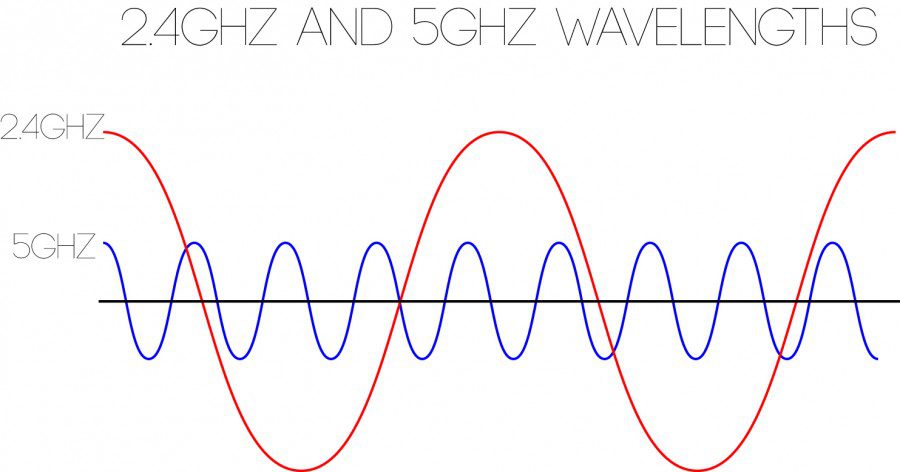 So what are the differences between the two in terms of how your wireless router performs?
Single Band Router vs. Dual Band Router: What's the Difference?
As the name suggests, a single band router only utilizes one of the two bands, the 2.4 GHz band, while a dual-band router is able to utilize both the 2.4 GHz band as well as the 5 GHz band. This enables a dual-band router to have more flexibility and better performance in comparison to a single-band router.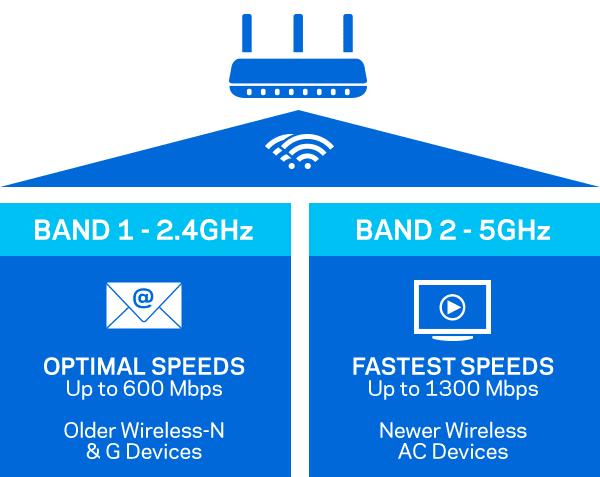 Single Band Routers Are Out, Dual Band Routers are In!
The 2.4 GHz band only has three non-overlapping transmission channels, making it vulnerable to interference from nearby electronic gadgets such as microwave ovens, cellular phones, Bluetooth devices, cameras, Wi-Fi hotspots, televisions, and much more.
This causes the 2.4 GHz band to become cluttered and bogged down. To make the situation worse, these sources of interference can all compound together in busy environments such as large cities, apartment complexes, and offices, causing wireless speeds to slow down even more!
Think of the frequencies like a highway: a single-lane highway would have much more traffic in comparison to a highway with two lanes.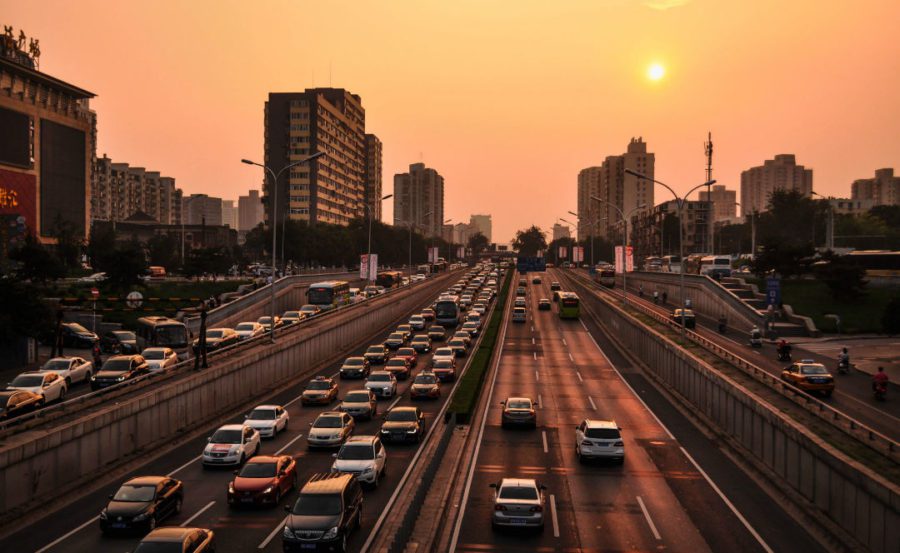 In addition, most single-band routers use the Wireless N standard, which caps the maximum data rate at 900 Mbps.
Dual-Band Routers: For Your Average Home 
With an influx in the number of wireless devices in a common household, the 2.4 GHz band has taken on a lot of stress. This is where the 5 GHz band comes in.
The 5 GHz band is newer and therefore fewer wireless devices are using it. A less cluttered frequency allows for a faster and more stable wireless connection throughout your home.
This particular band operates on the newer Wireless-AC standard, supporting speeds of up to 5300 Mbps. Luckily, this standard supports older Wireless-N devices, allowing for backwards compatibility.
Here are some advantages of using a dual-band router:
Up to 100x the wireless bandwidth (Picks up both the 2.4 GHz and 5 GHz bands)
Dedicated Wi-Fi Network for video and gaming
Separate networks avoid interference
Two separate Wi-Fi networks operating simultaneously
Depending on the size of your home and the number of devices you'd like to connect, we have a wide range of routers perfect for your situation.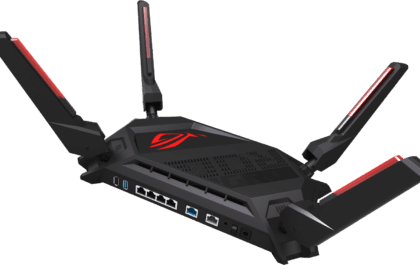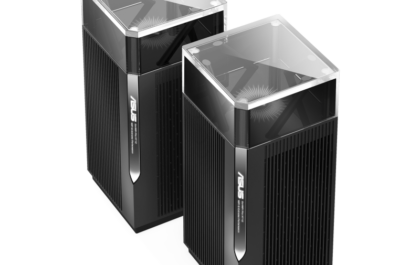 How Can I Future Proof My Network With A Tri-Band Router?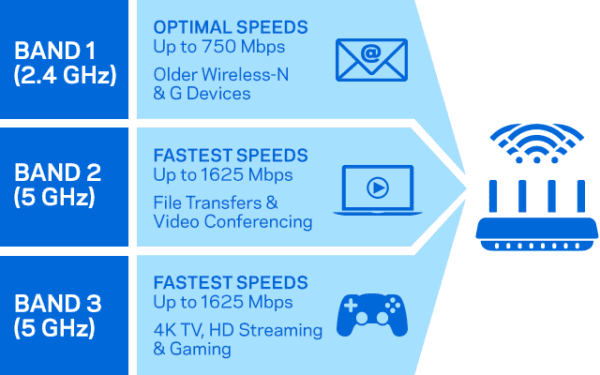 The latest and greatest. A tri-band router features one 2.4 GHz band as well as TWO 5 GHz bands for optimal performance. Take a look at what a tri-band router can do for you:
Supports more devices due to additional wireless bands
Three separate bands mean three times more bandwidth
Dedicate each band to separate devices
More wireless bands for less interference
Add Another Band With Wireless-AD
While the vast majority of devices are only Wireless-AC compatible, some devices now also support Wireless-AD. Only available on a few of our devices, Wireless-AD boasts speeds of up to 7200 Mbps.
How do these devices support these ludicrous speeds? On the new 60 GHz band of course.
Rather than having one 2.4 GHz band and two 5 GHz bands, Wireless-AD devices swap out the additional 5 GHz band for a 60 GHz one. Essentially, Wireless-AD devices sport one 2.4 GHz band, one 5 GHz band, and a 60 GHz band.
Wireless-AX Enters The Fray
Despite the promise of Wireless-AD, it never quite took off. Instead, users flocked to Wireless-AX. This newer Wi-Fi standard provides users with an abundance of features that improve network performance. Shortly after the adoption of Wi-Fi 6, the Wi-Fi Alliance adopted a newer version of the firmware labeled Wi-Fi 6E.
This newer standard gives users access to the 6 GHz band. With this new 6 GHz spectrum, routers will have more space to broadcast signals, leading to clearer, faster signals with fewer interruptions.
What Are The Best Routers For Any Wireless Band?
Slate WiFi 6 AXT1800 VPN Travel Router by FlashRouters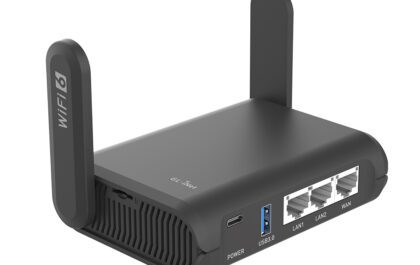 BUY NOW
WiFi 6 (Wireless-AX) speeds
Small Enough to Travel With
Asus AXE16000 Merlin FlashRouter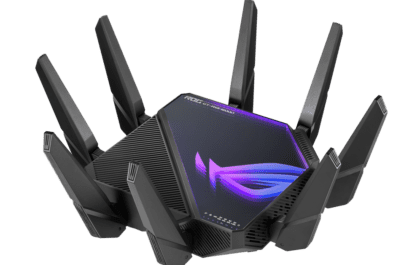 BUY NOW
Perfect for Max Wi-Fi (15+ Simultaneous Connections)
Blazing-fast Wi-Fi 6E (Wireless-AXE)
Asus AX1800S FlashRouter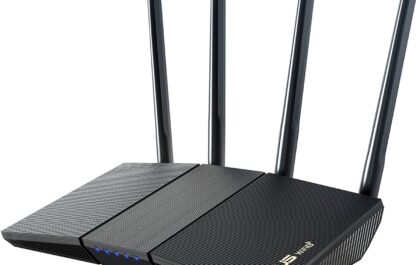 BUY NOW
Easy Router Setup via Asus App
Blazing-fast Wi-Fi 6 (Wireless-AX) Speeds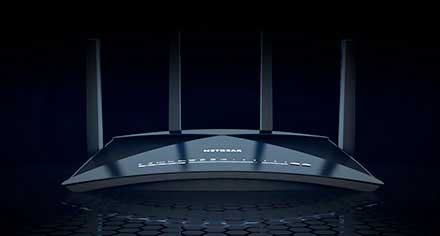 Looking for the most secure router for VPN service options? Look no further.