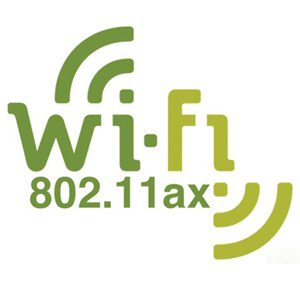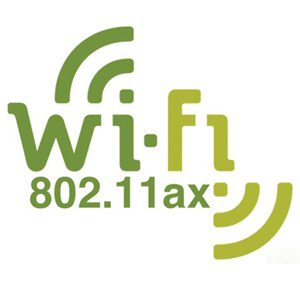 Whatever name you know it by—802.11ax, Wireless-AX, or Wi-Fi 6, it's the hottest wireless networking standard around today. See how it compares to other standards on the market.
Best VPN FlashRouters for Wi-Fi 6
And, if you're looking for the easiest way to get your VPN on your SmartTV, upgrading your wireless network router will help ensure a seamless streaming experience.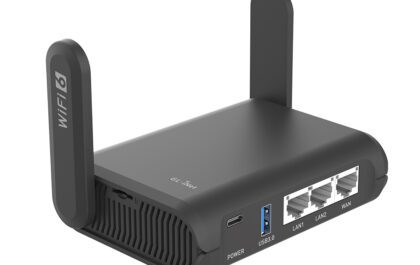 The Institute of Electrical and Electronics Engineers (IEEE) introduced the most recent wireless standard, 802.11ax (also known as Wi-Fi 6) in late 2018. In 2020, the organization introduced an update called Wi-Fi 6E. The former introduced a number of software improvements and enhancements, while the latter will give users access to the 6GHz band. With new technology shifts coming, this new wireless standard should get users excited.
What Is IEEE 802.11?
If you aren't familiar, 802.11 is the IEEE's standard for networking protocols. This includes 802.11g, 802.11n 802.11ac, and many other protocols. All of these form the basis of the technology commonly known as Wi-Fi.
Essentially, the IEEE standards are a set of technological capabilities and features that devices must have. By implementing these standards, devices made around the world are now compatible with each other.
What Improvements Does 802.11ax/Wi-Fi 6 Bring?
Wi-Fi 6 provides a number of important enhancements and new features that allow for improved performance when compared to previous versions of Wi-Fi. The two main features are OFDMA and MU-MIMO.
Wi-Fi 6 Updates: MU-MIMO
MU-MIMO (multi-user multiple-input, multiple-output) is a feature first introduced in Wi-Fi 5. Very broadly, MU-MIMO allows multiple devices to communicate with the router at the same time. Wi-Fi 6 expands MU-MIMO in two major ways.
The first is by expanding how many devices can be processed from 4 to 8. Wi-Fi 5 supported 4×4 MU-MIMO, while Wi-Fi 6 Supports 8×8 MU-MIMO, on both the 2.4Ghz and 5Ghz bands. What this means is that the 802.11ax/Wi-Fi 6 standard will be able to supply twice as many data streams on your network!
The second expansion is the introduction of bi-directional MU-MIMO. Previously, MU-MIMO worked only in one direction, from the router to the devices. With Wi-Fi 6, multiple devices will receive communications from the router at the same time, reducing latency and improving performance.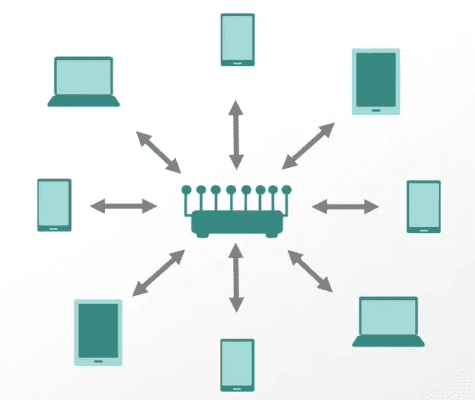 Wi-Fi 6 Updates: OFDMA
OFDMA stands for Orthogonal Frequency Division Multiple Access. This new feature builds upon OFDM (Orthogonal Frequency Division Multiplexing), a feature that was introduced on wireless networks with Wireless-N (also known as 802.11n or Wi-Fi 4) and improved in Wireless-AC (also known as 802.11ac or Wi-Fi 5). This features works in tandem with MU-MIMO to improve network efficiency.
While MU-MIMO deals with how many devices communicate with the router at the same time, OFDM and OFDMA deal with how these communications are processed. With OFDM technology found on Wi-Fi 5, communications are processed one at a time. Meaning that the router uses the whole channel width to process one request from one device. With many devices, this could lead to issues like slowdown or network congestion, as requests from one device could take a long time to load and cause a backlog.
OFDMA fixes that by splitting multiple communications into smaller bits and processing multiple bits at a time. This reduces backlog, as bandwidth-heavy activities like streaming won't hold up the processing of other network requests like reading an online article.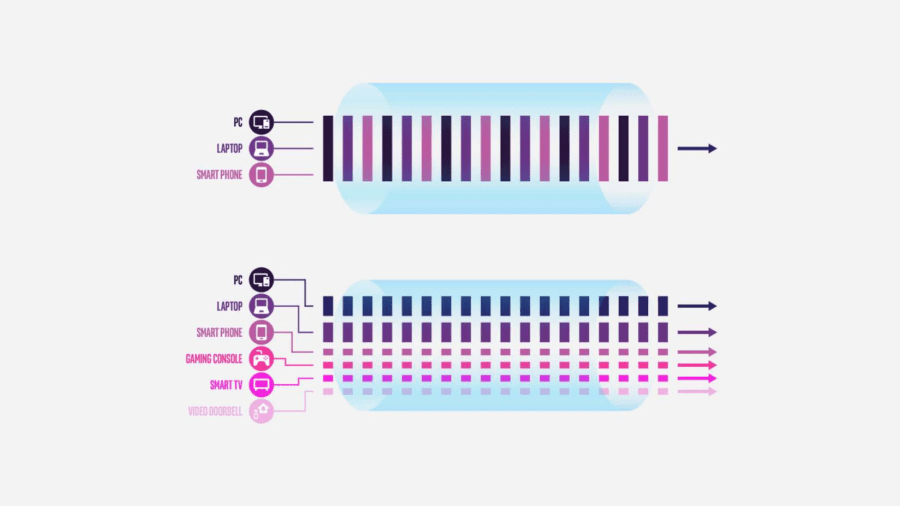 What Do Wi-Fi 6 (802.11AX) Updates Mean For Users?
According to estimates, Wi-Fi 6 should deliver a max throughput of up to 9.6 Gbps across channels compared to 3.2 Gbps with Wi-Fi technology. While these numbers are best-case estimates, on a more practical, user-level, in cases where Wi-Fi 5 technology can potentially provide gigabit speeds, 802.11ax will be able to deliver as much as five times that.
On top of that, 802.11ax offers more than just a speed upgrade. It will also offer reliability and efficiency upgrades, targeting large, high-density Wi-Fi deployments. The goal is to keep connections active even when faced with heavy interference.
Best Wi-Fi 6 FlashRouters To Protect Your Network
Looking to upgrade your network to Wi-Fi 6? Check out some of these customer favorites!
Slate WiFi 6 AXT1800 VPN Travel Router by FlashRouters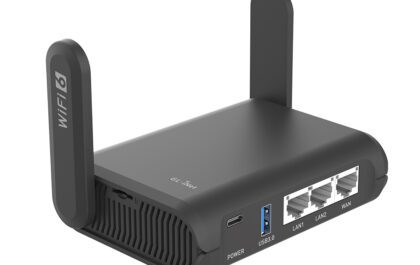 BUY NOW
WiFi 6 (Wireless-AX) speeds
Small Enough to Travel With
Asus AXE16000 Merlin FlashRouter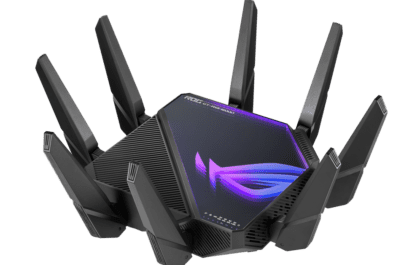 BUY NOW
Perfect for Max Wi-Fi (15+ Simultaneous Connections)
Blazing-fast Wi-Fi 6E (Wireless-AXE)
Asus AX1800S FlashRouter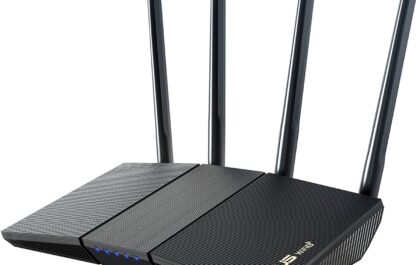 BUY NOW
Easy Router Setup via Asus App
Blazing-fast Wi-Fi 6 (Wireless-AX) Speeds
Looking to Optimize Your Existing Wi-Fi 6 Routers?
If you have a supported Asus router, we are happy to help you get the most out of your Asus Wi-Fi 6 router, by optimizing it with Merlin firmware with our Flash My Router service. After your router is flashed with Merlin, you'll unlock unique customization tools you won't find on Asus stock firmware, get rid of vulnerabilities, and still have access to your favorite Asus features.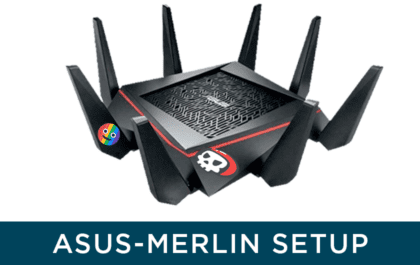 FLASH MY ROUTER SERVICE INCLUDES:
Supports Many Popular Asus Wi-Fi 6 Routers
3 VPN Profile Configurations
Access to Asus App Management
Asus Stock Firmware Capabilities
What Do FlashRouters Offer Me?
At FlashRouters, we offer routers that not only allow communication of up to four different devices simultaneously but with enhanced VPN capabilities not offered on many Wi-Fi 6 routers. All of our products come with open-source DD-WRT firmware that allows you to create a VPN-enabled Wi-Fi network, placing all of your devices behind the protection of your VPN with just a single one-time setup.
On top of that, DD-WRT fixes many flaws that are present in off-the-shelf routers such as security vulnerabilities and network backdoors. Secure your entire network and all of your devices with a FlashRouter today! 
Popular VPN Providers for Wireless Routers That Support Wi-Fi 6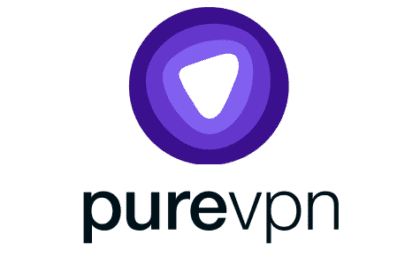 SIGN UP HERE!
Servers in 70+ countries
Port Forwarding, DDoS protection, and Dedicated IP Available as Add-ons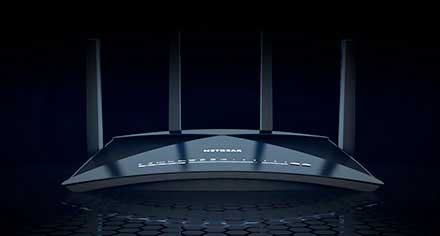 Looking for the most secure router for VPN service options? Look no further.