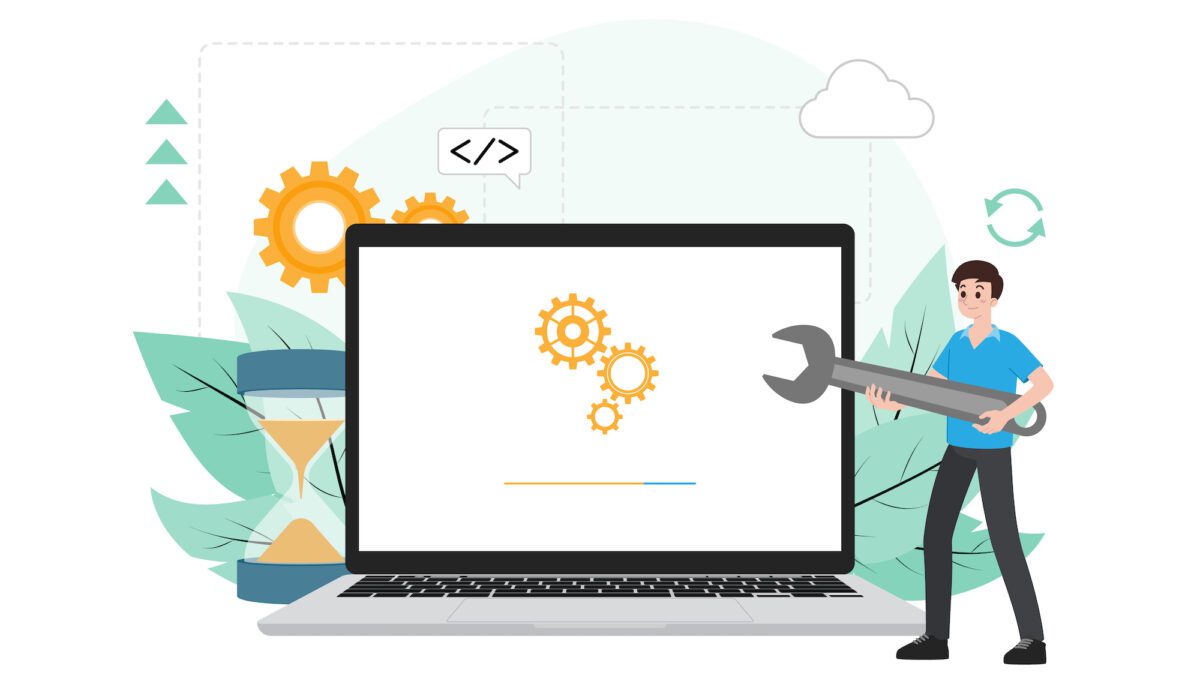 Do ASUS wireless routers offer official support for WireGuard?
Yes, ASUS routers do support WireGuard. It is a free and open-source software application for implementing virtual private network (VPN) connections. It is a secure, fast, and easy-to-use protocol that offers enhanced security over traditional VPN protocols such as OpenVPN or IPsec/IKEv2.
WireGuard is designed to be simple yet powerful, making it the ideal choice for users looking for improved security and performance. ASUS routers are fully compatible with WireGuard, allowing users to set up their own personal VPNs quickly and easily.
Furthermore, ASUS routers also offer advanced features such as Quality of Service (QoS), parental control, dynamic DNS, port forwarding, and more. With the help of these features and ASUS's intuitive user interface, users can easily configure their own secure networks with WireGuard in no time at all.
Which ASUS devices support WireGuard® VPN?
ASUS devices are available with support for WireGuard® VPN. This is a secure connection that can be configured to provide access to the Internet while protecting your data and privacy. The list of ASUS devices that support WireGuard® is growing all the time, so it's worth checking for updates if you're considering using it.
GT series
GT6
GT-AXE16000
GT-AX11000 Pro
GT-AXE11000
GT-AX6000
ZenWiFi
ZenWiFi Pro XT12
ZenWiFi Pro ET12
ZenWiFi XT9
ZenWiFi AX (XT8)
ZenWiFi XD6
RT series
RT-AXE7800
RT-AX88U
RT-AX86U Pro
RT-AX86U, RT-AX86S
RT-AX68U
RT-AX82U
TUF series
Each of these devices allows users to configure and use WireGuard® in order to establish a secure connection with the Internet. In addition, all of these devices support Wi-Fi 6 and/or Wi-Fi 6E. That means users can take advantage of more efficient communication between routers and devices—for better performance with or without a VPN.
Asus RT-AX86U Merlin FlashRouter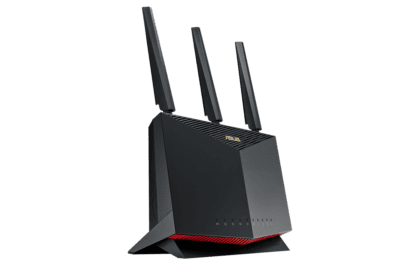 BUY NOW
Great for Large Homes
Perfect for 15+ Devices
Asus AXE16000 Merlin FlashRouter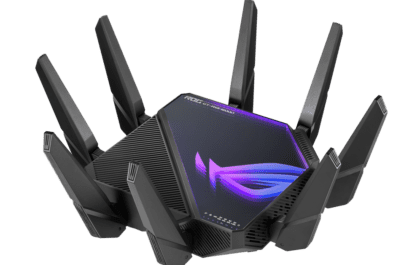 BUY NOW
Perfect for Max Wi-Fi (15+ Simultaneous Connections)
Blazing-fast Wi-Fi 6E (Wireless-AXE)
Asus RT-AX68U Merlin FlashRouter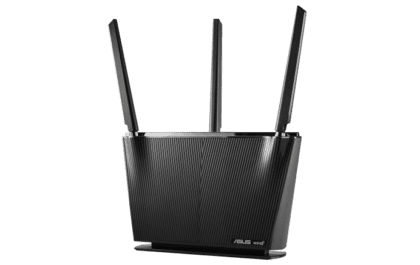 BUY NOW
Great for Large Homes
Perfect for 10-15 Devices
Alternatively, if you already have an existing router from the list above, that you'd like WireGuard pre-configured, our tech specialists would be happy to assist you via our Flash My Router program!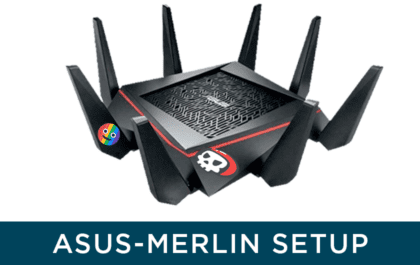 FLASH MY ROUTER SERVICE INCLUDES:
Supports Many Popular Asus Wi-Fi 6 Routers
3 VPN Profile Configurations
Access to Asus App Management
Asus Stock Firmware Capabilities
It's important to note that while WireGuard® is available on many Asus devices, not all of them may be able to configure it or use it. It's always best to check the documentation for your device before attempting to access or use it.
Which VPN works with Wireguard?
A Virtual Private Network (VPN) is an important tool for protecting your online privacy and security. For people who own an Asus router, there are many VPNs that work well with the device. OpenVPN has a long track record of support and is generally available as an option on any router that supports VPN.
When it comes to Wireguard, many VPN providers offer it as an option within their desktop or mobile app for improved performance, but only a limited number have completed the advanced development necessary to allow for their Wireguard implementation to work on a router.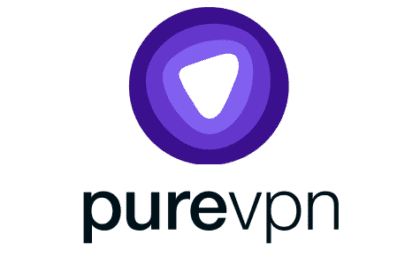 SIGN UP HERE!
Servers in 70+ countries
Port Forwarding, DDoS protection, and Dedicated IP Available as Add-ons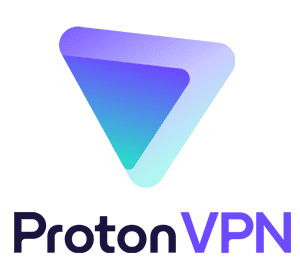 SIGN UP HERE!
1700+ Servers across 60+ countries
Integrates with the Tor anonymity network
These VPNs offer reliable services that offer high-end encryption protocols and good speeds when streaming content. Furthermore, they have easy setup processes on Asus routers and can be used to unblock geo-restricted content from different countries.
When choosing a VPN for your Asus router, you should consider its features such as data logging policies, customer support, number of servers available, money-back guarantee period, and subscription fees. With a little research, you can find the right VPN to protect your online identity while using your Asus router.
Is Asus Wireguard Available for NordVPN?
At the moment, Asus WireGuard is not available for NordVPN.
Is Asus Wireguard Available for ExpressVPN?
At the moment, Asus WireGuard is not available for ExpressVPN.
What Makes WireGuard® VPN Protocol Different?
WireGuard® is a revolutionary VPN protocol that has quickly become the preferred choice for many users. It offers an incredibly simple setup and complete connection security, while also providing superior performance compared to other options like OpenVPN.
The primary reason why WireGuard® is so different is that it gives users a much more comprehensive level of protection than other VPNs. This is due to its advanced cryptographic techniques, which allow for connections to be encrypted and authenticated in ways that are more secure than other protocols.
Additionally, WireGuard® provides faster speeds and lower latency than traditional VPNs, making it an ideal choice for streaming services or gaming. All in all, WireGuard® provides an exceptionally secure connection with excellent performance, making it one of the best VPNs available today.
Does WireGuard support site-to-site connections?
Yes, WireGuard does support site-to-site connections. A WireGuard VPN can be used to create a secure connection between two networks. This allows traffic between the two networks to be securely sent and received. Using a server running the WireGuard software, a router with compatible firmware (such as an ASUS router) can be configured to route traffic through the VPN.
In addition, these routers can also act as clients of the server. To set up this configuration, users need to use a guide that corresponds to the router they are setting up and their desired configuration settings. With WireGuard, users don't need any new software or hardware – it's already built into most modern routers and computers. This makes it easy for anyone to quickly set up their own secure network connection with minimal effort.
WireGuard Setup Interfaces on Asus
WireGuard GUI on Asuswrt-Merlin is a great way to use a VPN configuration on your router. It allows you to easily configure the client and server, create WireGuard tunnels, enable or disable traffic and generates public keys. You can also use QR codes to enter the configuration file into the interface.
Currently, this feature is only available on routers made by Asus, but it may be added to other models in the future. With the official app, you can access a list of local networks and generate DNS names for public servers.
To complete the setup process, all you need to do is enter your credentials and access data. Once you've done that, you can easily create, configure, and use WireGuard GUI on Asuswrt to protect your network from malicious attacks.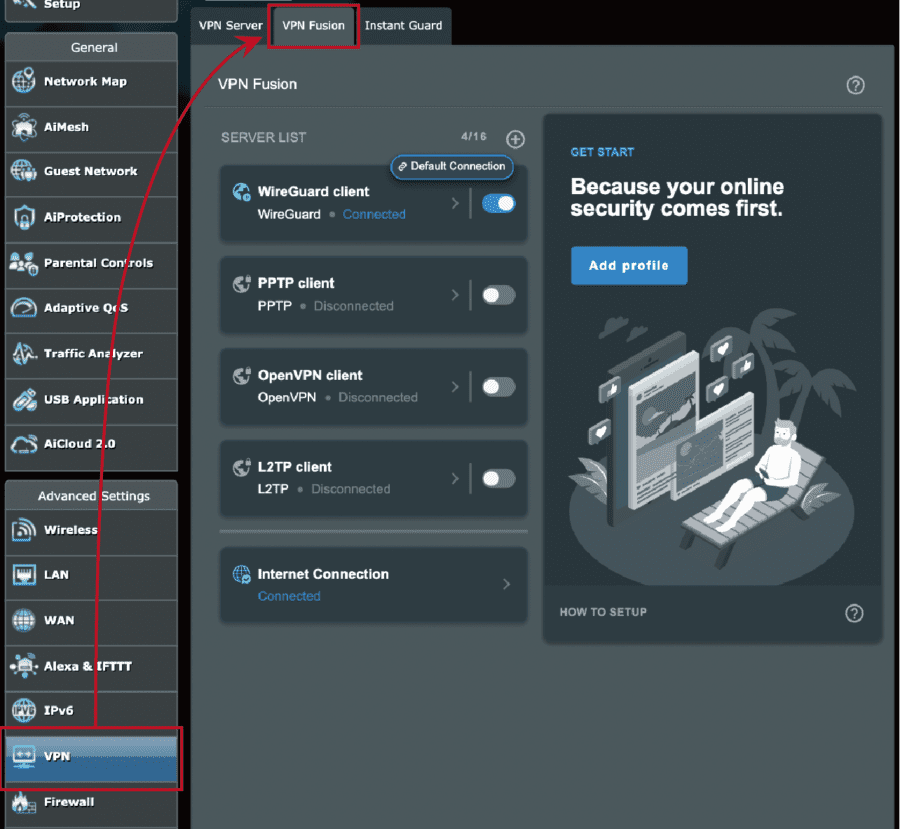 How to Install and Configure WireGuard VPN for an ASUS Router
WireGuard® VPN is a secure and fast VPN protocol that can be easily configured on an ASUS router. To configure WireGuard® VPN for an ASUS router, first, you should enable the connection by entering a new client name in the configuration file.
Then, enter the DNS server network you want to use with the WireGuard® VPN. After that, please give access to the web server of your device to allow it to add a new WireGuard® VPN tunnel.
Finally, enable support for the new tunnel and add it to your ASUS router. This will allow remote devices to access your network through a secure and reliable WireGuard® VPN tunnel. With these simple steps, you can easily configure WireGuard® VPN for an ASUS router and enjoy its benefits!
WireGuard VPN Protocol: Frequently Asked Questions
WireGuard is an open-source VPN protocol that is available for use by anyone. It was designed to provide a secure connection and enable traffic through a network without having to change the IP address of the application or web browser. It is an easier process than using OpenVPN, and it provides more security. There are several frequently asked questions about WireGuard VPN that people have when they are considering using this type of connection.
Additionally, there are events available for those who want to learn more about Wireguard VPN protocol. These events provide an opportunity to gain a better understanding of how this technology works and how it can help protect your data from being accessed by malicious actors. The website also provides resources such as tutorials and documentation so you can get started with setting up Wireguard quickly and easily.
WireGuard VPN Protocol Benefits
WireGuard VPN Protocol is the new and improved way to create and use a secure network connection. It has several advantages over OpenVPN, including faster connection speeds, better security, and lower resource usage.
Additionally, it is much easier to set up and configure than OpenVPN. With WireGuard, you can quickly create a secure connection that is more reliable and private than any other VPN protocol. The protocol uses state-of-the-art encryption algorithms to ensure your data is kept safe from malicious attackers. Furthermore, its open-source nature means that anyone can inspect the code to make sure it is secure.
All in all, WireGuard VPN Protocol is an excellent choice for anyone looking for a fast, reliable, and secure way to protect their online traffic.
WireGuard vs OpenVPN
WireGuard and OpenVPN are two of the most popular VPN protocols currently in use. A VPN, or Virtual Private Network, is a connection between two computers that allows for secure data transfer over the internet. As such, both WireGuard and OpenVPN can be used to guide an individual's connection through a virtual tunnel of sorts, ensuring that all data remains safe and private.
WireGuard is relatively new compared to OpenVPN, but it has quickly risen to become one of the more preferred protocols due to its high speed and low latency. It also boasts a simpler configuration process than OpenVPN. On the other hand, while OpenVPN may have more features than WireGuard, it also requires additional setup steps which can make it more difficult to configure initially.
Ultimately, when deciding between WireGuard and OpenVPN it will depend on your needs as both have their own strengths and weaknesses. If you're mainly looking for speed then WireGuard is probably your best bet, but if you need more features then OpenVPN might be the better option for you.
Is WireGuard the best VPN Protocol?
WireGuard is a modern and secure VPN protocol that has been gaining traction in recent years. It is known for being lightweight, fast, and easy to set up. Compared to other protocols such as OpenVPN, WireGuard offers better security features, improved performance, and greater compatibility with devices. Additionally, it can be used on many different platforms such as Windows, macOS, iOS, Linux, Android, and more.
With its combination of simplicity and security features, it is no wonder why WireGuard is becoming so popular among users. While it may not be the best VPN for everyone's needs or preferences, WireGuard has certainly become one of the most reliable options on the market today.
Wireguard and NordVPN?
NordVPN supports WireGuard via its own flavor called NordLynx. WireGuard serves as the backbone of NordLynx but adds additional features.
If you're looking for the best router for NordLynx, we have the solution for you!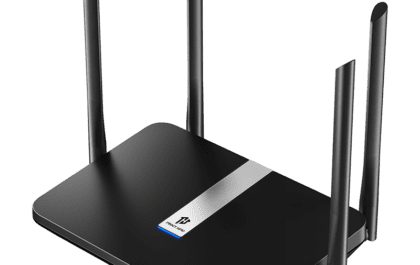 NordLynx WiFi 6 Router – Privacy Hero
---
FEATURES
Perfect for Medium Homes
Perfect for 20-30 Devices
Built-in Support for WireGuard & Wi-Fi 6
Comes with NordLynx



How to set up a WireGuard® client in VPN Fusion?
Setting up a WireGuard® client in VPN Fusion on a router can be done easily. First, you need to have a ROG (Republic of Gamers) router.
Then, you must download the VPN Fusion application and install it on your router. Once that is done, launch the application and connect your router to the internet.
Next, set up the WireGuard® client under the VPN settings tab. Select 'WireGuard®' from the list of available options, then enter the credentials provided by your chosen VPN provider.
Finally, click 'Connect' to establish a secure connection between your ROG router and the WireGuard® server.
With this setup completed, you will now be able to browse securely with no fear of anyone intercepting your data or tracking your online activity!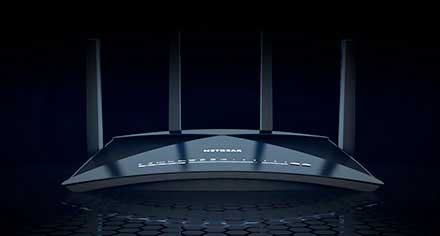 Looking for the most secure router for VPN service options? Look no further.