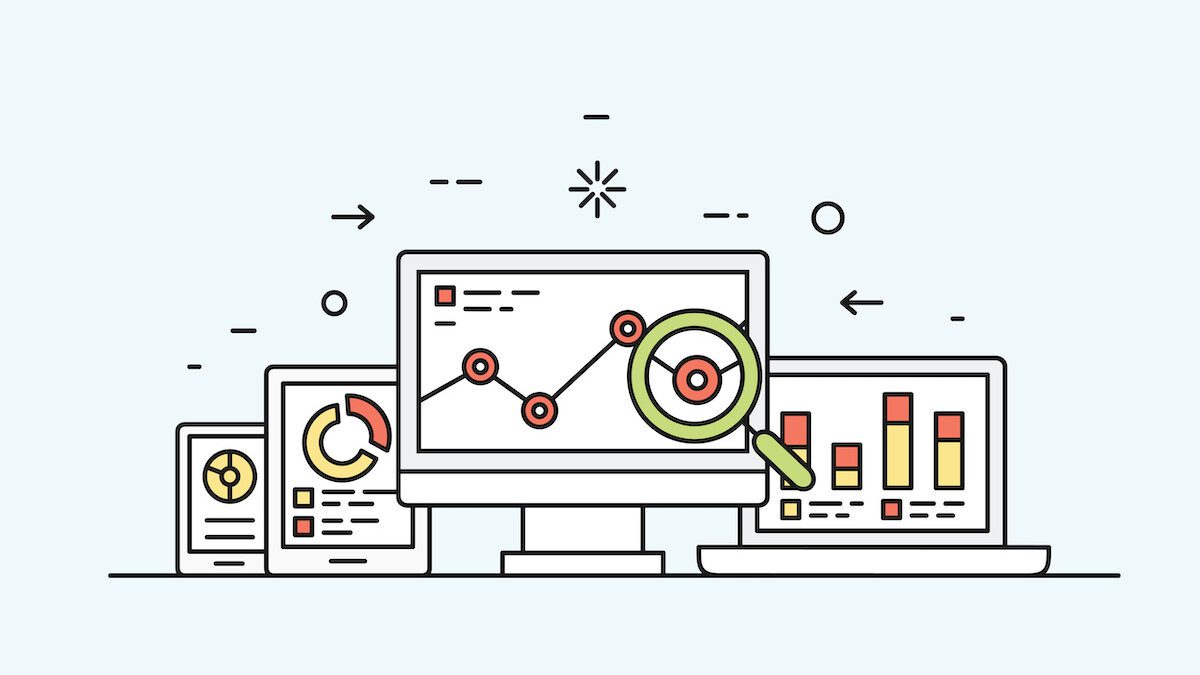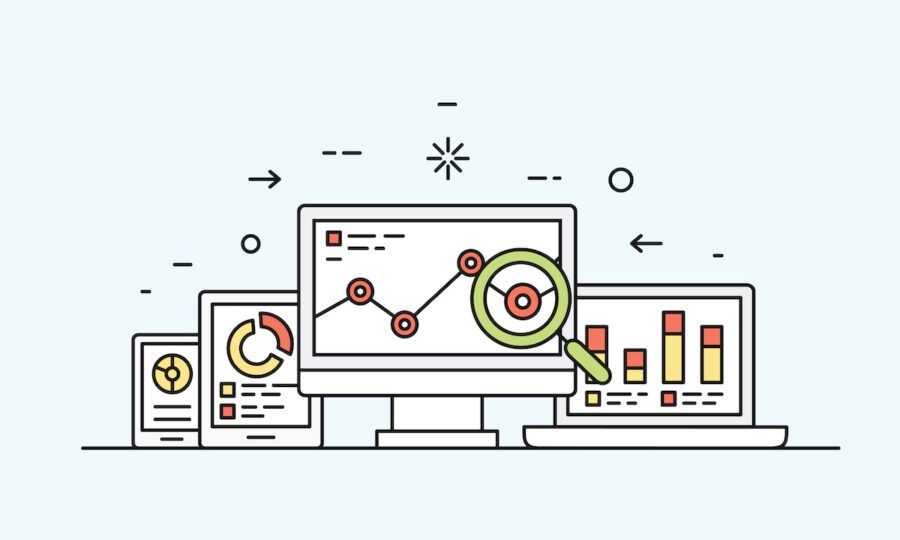 For those without unlimited mobile or home internet plans, being able to track your bandwidth usage is crucial if you want to avoid exceeding your limit. It's not always the easiest thing to do: certain websites, games, and other activities can end up eating much more of your data than you realize.
However, with the right router and firmware, you can monitor your bandwidth and keep yourself within the restrictions of your plan.
Finding a Router with Advanced Bandwidth Monitoring
The first step towards advanced bandwidth monitoring is finding a router flashed with DD-WRT firmware. DD-WRT firmware boosts the functionality of routers in many important ways, including VPN integration and WiFi HotSpot capabilities. And fitting with the theme of the post, this replacement firmware also enables you to monitor your bandwidth usage.
How to Monitor Monthly Bandwidth with DD-WRT
Once you've got your DD-WRT router connected as your network gateway, you can access the active DD-WRT bandwidth monitoring options by:
Browse to the DD-WRT's GUI (Graphic User Interface) by entering your router IP address in any browser (i.e. 192.168.1.1)
Log in with your router administration credentials. By default, DD-WRT uses username: root  & password: admin. If you have a FlashRouter, the altered password will be included in your setup guide.
Click Status tab → WAN.
Here you will find a day-by-day and monthly total of traffic like so.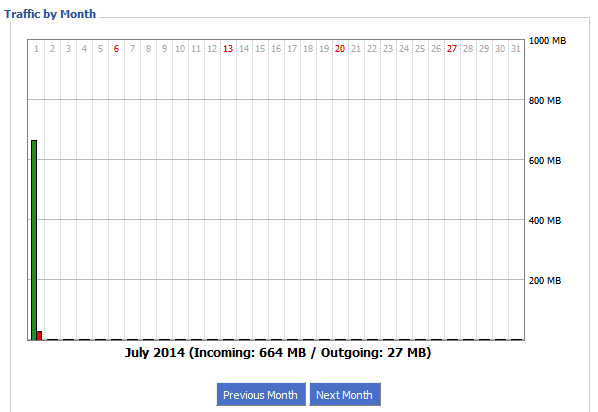 Struggling with some sluggishness in your network? You may want to check on the amount of capacity individual users are using.
Click Status tab → LAN an active client list will appear.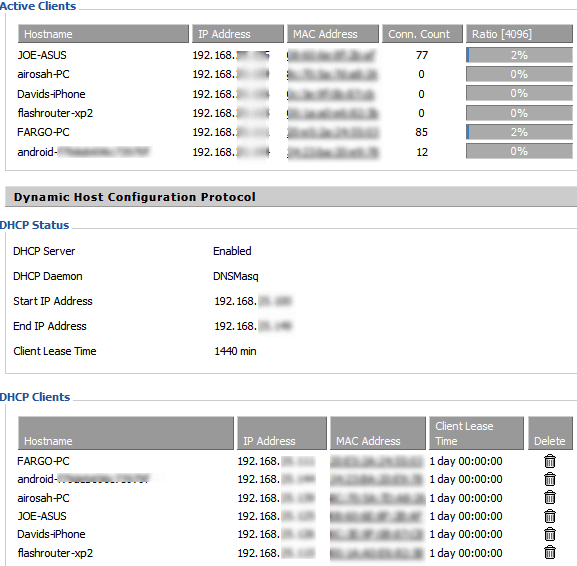 If someone is being a network hog or you see a device you are unfamiliar with, just click the Trash can icon next to the user to remove his WiFi network lease. A WiFi network lease is the amount of time required between a user or device having to reenter credentials. This prevents the assignment pool of the router from being overloaded by giving connections perpetually to your friend's kids or your visiting relatives.
How to Monitor Individual Network Segments with DD-WRT
For more in-depth Internet speed logging, visit the Status tab → Bandwidth tab. You have now arrived in the powerful live Bandwidth monitoring section in DD-WRT, but here's a little insight into the basics of what it all means.
Under Bandwidth, there will be some instantly visible real-time graphs corresponding to the different Internet sharing segments of your router from the wireless antennas to the wired ports you should see a real-time view including "WAN (vlan1)", "WL (eth1)", "br0", "eth0", and "vlan0".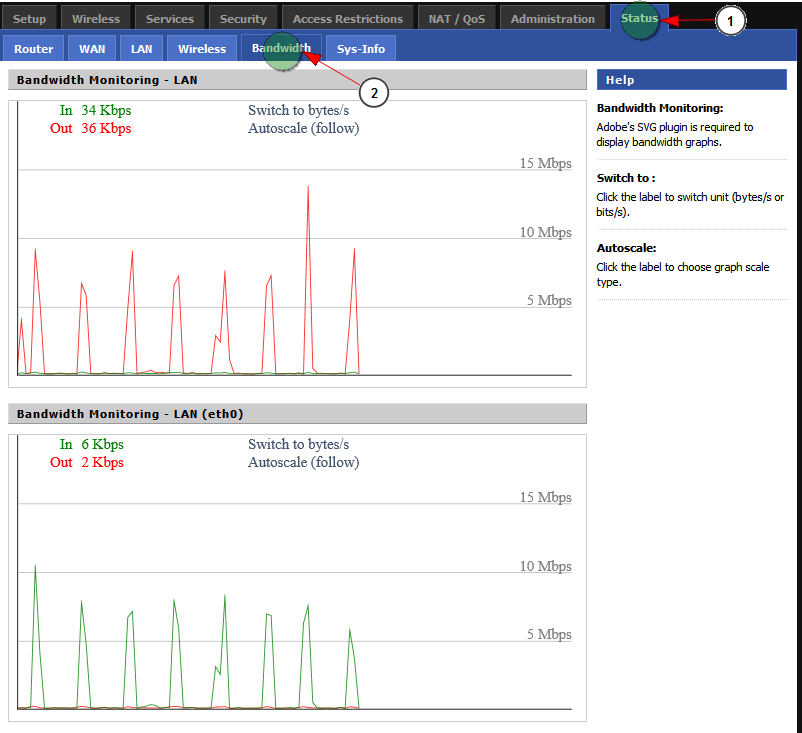 Each of these tabs is telling you something about one kind of traffic coming in or going out of your router.
If your router is hardwired to your modem and you want to know what traffic is like on the WAN/Broadband connection, "WAN (vlan1)" is the segment to watch. For Wi-Fi traffic with the "WL (eth1)" tab, which is particularly useful if you suspect you're not the only one using your WiFi network when you should be. If you have a dual-band router, you might see another WL.
"br0" is essentially a connection between the WAN and LAN ports and therefore shows you the total transfer speeds over the router. "etho" covers all of the local ports and the WAN port with the internet traffic. Lastly, "vlan0" offers a look at the hardwired ports, Internet traffic, and internal traffic, allowing you to get a good sense of what's going on from within and without your router's network.
Depending on your router, these names might vary slightly but as you can see the number of segments you can monitor right out of the box is very impressive. Between live bandwidth monitoring, user connection info and management, and daily and monthly upload and download traffic, you can catch just a glimpse of what DD-WRT adds.
Additional Benefits & Advantages of DD-WRT Firmware
Need more reasons to get a DD-WRT router? Here are a few other popular features upgraded, enhanced, or only available with DD-WRT open-source firmware.
Get the latest Info on DD-WRT FAQs, Advanced Features, and more!
Router firmware backdoors, bugs & fixes

Improved Network Stability & Network Information
Advanced Wireless Modes: Access Point (AP), wireless client bridge & repeater modes
Adjustable Antenna Transmission Settings – Increase wireless strength and coverage
Policy-Based Routing – Choose segments of Internet activity based on website, device, wireless network, etc.
Dynamic DNS (DDNS) service integration
SPI Firewall/ IP Tables
IPV6 Support
Advanced Port Forwarding – Create port forwards, redirects, & triggers with included UPnP (Universal Plug and Play).
NAT (Network Address Translation) support
Access Restrictions – Custom time, website, app & user-based restrictions
DNS forwarder – DNSmasq with local hostnames, domain names, and internet address caching
Bandwidth Graphing/Statistics: Real-time, daily & monthly
DHCP Server – Using DNSmasq with dynamic and static DHCP leases
Wi-Fi hotspot Integrations: Create hotspots for businesses with a verification page using the integrated Chillispot or NOCATSPLASH system
Wake-on-LAN – Remote network access
Samba file-share/CIFS client
WDS: Wireless distribution system AKA wireless bridging
Telnet/SSH Support
Radius Authentication: Enterprise-level wireless security
JFFS2 Support
How does DD-WRT compare to my router's stock firmware?
Manufacturers develop routers with non-technical users in mind, making them simple and easy to use while limiting their effectiveness as a web-access gateway. DD-WRT transforms a personal-class router with limited functionality into a powerful, multi-use, business-class router. With DD-WRT, a router's enterprise potential can be unlocked at a home user's price.
What benefits does DD-WRT bring to my network?
Benefits range from superior network stability/performance to being able to encrypt your entire network by tunneling all traffic through a VPN connection, as well as the ability to create completely multiple segmented WiFi networks and much, much more. Users also appreciate the peace of mind that comes from a community-vetted-and-tested firmware that is being consistently updated and upgraded, and removes frustrating bugs as well as potential backdoors.
How does DD-WRT compare to other popular router firmware?
DD-WRT has been impressing users since its inception in 2005, and is the go-to alternative router firmware due to its longevity of existence and support of the largest array of devices. Consequently, DD-WRT can claim the largest community of users. It's the backbone of what we do here at FlashRouters. Our team selects high-performance wireless router hardware and supercharges, or "flashes", it with DD-WRT for it to become the best possible version of itself.
Does DD-WRT support OpenVPN and PPTP?
Yes. OpenVPN and PPTP (Point-to-Point Tunneling Protocol) are two different protocols for logging into VPNs (Virtual Private Networks) in order to secure your identity and encrypt your connection.
OpenVPN is a full-featured SSL VPN solution that can accommodate a wide range of configurations. Those include home, office, and campus telecommuting, Road Warrior access, WiFi security, secure branch office linking, and more.
PPTP is another method for implementing VPNs. PPTP uses a control channel over TCP and a GRE tunnel operating to encapsulate PPP Packets. Before OpenVPN, it was the standard for VPNs. However, most VPN providers no longer support PPTP, due to security concerns associated with the protocol. Newer protocols like OpenVPN and WireGuard, are now considered the norm.
Where Does the Name DD-WRT Come From?
DD-WRT branched off Sveasoft's work once they began to start charging for their firmware, releasing its first version in early 2005. Part of the name of that initial router, the WRT (Wireless Receiver/Transmitter) was merged with DD, the German automobile license plate code for Dresden, home of the project's founder BrainSlayer.
The project was successful enough that DD-WRT has become the basis for other firmware created by router manufacturers themselves.
Does DD-WRT Support WireGuard?
Does DD-WRT Support Lightway?
Ready to take control of your network back? Make sure to visit the ever-popular Best DD-WRT Routers list to find a truly secure and powerful network centerpiece for you and your network monitoring desires. And, take a look at some of our most popular options below!
Netgear R7000 DD-WRT FlashRouter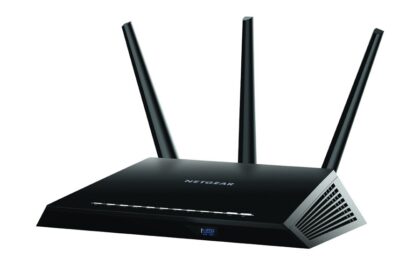 BUY NOW
Great For Medium Homes
Perfect For 6-10 Devices
Like this post? Want to see more information about open-source router firmware and advanced networking options? Check out more tutorials!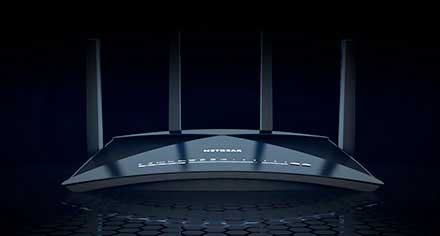 Looking for the most secure router for VPN service options? Look no further.